11 December 2017
Hundreds take part in rare protest in Beijing over migrant crackdown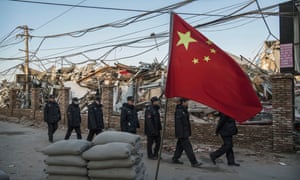 Demonstrators condemn evictions and demolitions carried out by authorities which have seen thousands lose their homes.
Hundreds of protesters have taken to the streets of the Chinese capital to pillory Beijing's crackdown on migrant communities with chants of "violent evictions violate human rights".
Demonstrators gathered on the streets of Feijia village, about 12 miles northeast of Tiananmen Square, on Sunday for the small but rare rally condemning the eviction and demolition campaign.
Activists say thousands of migrant workers have been forced from their homes in Beijing's rundown periphery since late November when authorities intensified efforts to drive "low-end" migrant workers out of the city in the wake of a deadly tenement fire.
Sunday's protest was not reported in China's Communist party controlled press but videos and photographs of the event spread online, with human rights campaigners cheering the scenes. Read more on this at:
https://www.theguardian.com/world/2017/dec/11/hundreds-take-part-rare-protest-beijing-migrant-crackdown
Courtesy: The Guardian, UK